Are you ready to leaf the city behind and embark on an unforgettable journey? Look no further than Treetops Adventure Central Coast, New South Wales' flagship Treetops Adventure Park. Nestled amidst the magnificent eucalyptus trees of the Ourimbah State Forest, this park will have you swinging, flying, and bouncing with joy!
Whether you're a budding tree-hugger or an experienced adventurer, Central Coast has something for everyone.
Now, for all you foodies and caffeine connoisseurs out there, we've got some exciting news! We've planted a brand new Kiosk! So, if you're craving a hot cuppa, some sizzling hot chips, or a delicious, toasted sandwich, we've got you covered. It's the perfect way to warm up during these chilly winter days.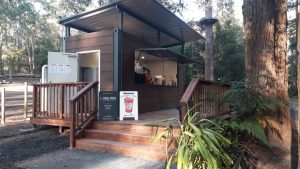 Come on a Tree Ropes Climb! We have 4 Junior Courses for 3-7yr olds, and 4 Tree Ropes Courses or 8yrs+. These courses are packed with aerial activities that will put even the bravest souls to the test. We've recently sprung into action and added 4 brand new activities on the Junior Courses, and 23 new activities across the higher Tree Ropes courses for our 8yrs+ climbers! So, if you think you've done it all, there's a few more surprises.
Safety is our top priority, and that's why we require grown up supervision for each age group. But don't worry, adults supervising Juniors from the ground don't need a ticket. It's a good way to ensure everyone stays safe and sound.
But wait, there's more! Networld is a bouncing wonderland nestled in the treetops. Prepare to bounce, play, discover, and explore a whole new world like never before. With interconnected spaces and gigantic inflatable balls, gravity will have a hard time keeping up with your excitement.
And for all you early risers with energetic little saplings, we have an exclusive Networld Session for Infants and Juniors (1-5 years old!). Let them spring, play, and discover away from the big kids. These fun-filled 1-hour sessions are available at various times throughout the school term.
Last but certainly not least, we are have installed brand new toilet cubicles! Farewell to the outdated portable toilets of the past, as we welcome a sophisticated set of restroom units that provide a serene environment for you to answer nature's call.
So, why not spruce up your plans and embark on an adventure high above the rest? Just remember, bookings are required to ensure everyone has a tree-mendous time.